Field Trip 1: Assembly Walk and Talk
This Isle is Full of Noises
by James Kearns
In Cornwall there is a south coast and there is a north coast, but what is often forgotten is that there is also a west coast. Our field trip will take us along a section of this west coast, and we will start from The Assembly, a residency space for artists, housed in an old Wesleyan chapel dating back to 1757, and situated in the town of St. Just itself. We arrive by coach and disembark. The Assembly building is fittingly unassuming and peopled with a number of like-minded collaborators and newly formed friends who, perhaps tentatively, await our arrival; we are perhaps a little apprehensive too.
The day is wonderful, the weather is absolutely beautiful: it's a scorcher. There's no trace of the mist, the haar-like conditions of the day before when it felt like life had been pushed into a Tupperware box and the lid put on. Today is the first day of summer; today is the real thing, no false promise, only the promise of the real. So, let's be on our way. And as we walk we will talk. There has been such murmuring over this land for thousands of years, after all, a seeking of space and place and living in days; we will lay our own interrogative stones into the ground.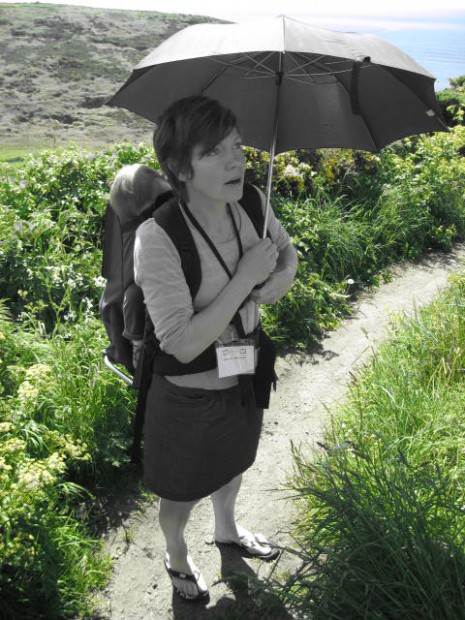 Is this the famous Cape Cornwall Road? The question is not asked. It is actually Bosorne Road, and we walk until the passing at Cot Valley, and head left for Nanven down Hermon Hill toward the tow path. We look out, and across the shimmering blue of the Atlantic Ocean where the first land-fall due west is Brazil. Below us the tiny Porth Nanven sits. We must believe that this site was once the topic of some heated debate in Parliament, and was considered as the ideal place for an industrial port with a rail link to Penzance. This nineteenth-century idea did not take root and was eventually rejected in both Houses, and with this decision the course of Cornish history turned with it. Veronica Vickery tells us this story, and talks later, as we walk northwards, of potential tensions in and of the land, the ecological choices, the fears of living in a living museum, of a landscape preserved and re-packaged back to us as something merely idyllic. All around us are radiating complexities and alternate histories to consider.
We reach Ballowall Barrow, an ancient excavated settlement of rocks and channels. Here Hadrian Pigott, a geologist artist, shares his idea of a five-thousand year old music, and one is awoken to the idea of the human voice and the sweet sounds around us repeating through time. On cue the bubbling trill of the cuckoo is heard off in the distance, the swoop of a giant buzzard's wing, the susurrus sea, but Hadrian is drawn to other musics, to logan-stones, the primordial sound of the rocking back and forth, the production of profound sound and impact; something new springs forth from an otherwise ancient explanation. That sound is important, you know, that record from under the ground.
We are in and are literally standing on prehistoric time. A Mesolithic and Neolithic landscape overlain by industrial seventeenth-century mining that has become embedded into the bowels of the land. A mine shaft can go to seventeen hundred fathoms, some go out to sea. A fathom, we are informed by Jon Brookes, who knows these things, and more, and manages to make his stories come alive to us, is a depth of six feet. That's deep, and it is fear making, those tin miners were working in half-sight under there, the audible rushing sound of sea must have terrified. We remember those men as we rest on one of the oldest working landscapes in the world, of medieval and post-medieval field patterns, and the landscape changes still.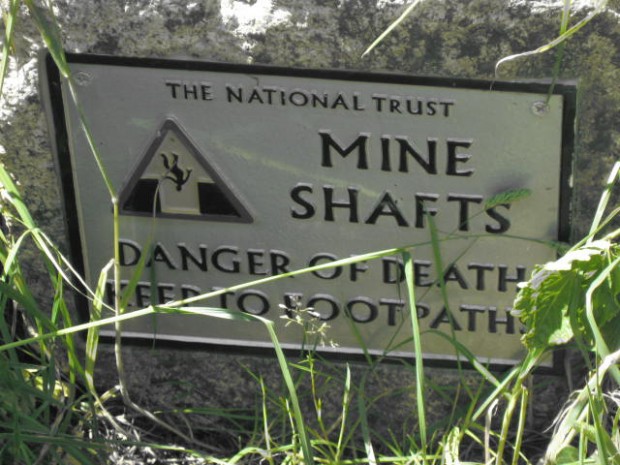 Yes, pits have been plunged into the earth, and into those holes go stories, light gives up the ghost and the rest are left to darkness, you could be lost for all time, if you fall in, down to hell. Occasional silver National Trust signs tell you to be on your toes, have your wits about you; these holes are no longer filled in because horse-shoe bats live there, and thrive, so they are left open and made as safe as can be by Cornish hedging. We are told to get out, get lost, and discover, that is the ethos, but you are invited to come back, you will hopefully return.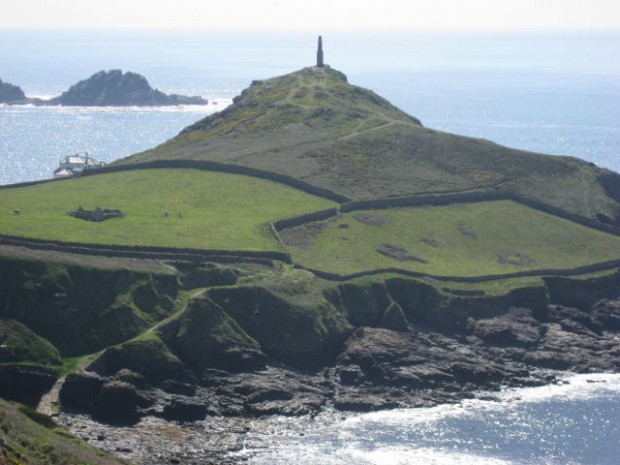 So, our walk must end, as all things must. Together all of us have made our walk unique, and the stories and ideas and responses were passed each to each, and some may falter and be forgotten. Yet the voices that were heard and shared are our consolidation of rubble, unearthed and remade. And before the end there is a moment, a travelling coincidence, as we head past Cape Cornwall and up and yonder to Botallack, a moment among many, as wearily we reach a small headland that jutted high up and over the ocean. One by one we leave the path, aimed like arrows, it seems, and find ourselves in a circle of stones, a monument and a moment to add to the more than five thousand years. We are not aware, instead we are compelled to this shy place, as we left the path, we are drawn like a sense of falling, and in that sense we did know it, we are aware, it is in us, perhaps, around us, and no photograph can capture the movement of people, the turnings to and fro, and to and fro, the shapes of time, a dance within an ancient circularity. Free at last, we are loaded with the sum of all these pasts, and no one is quite prepared for that.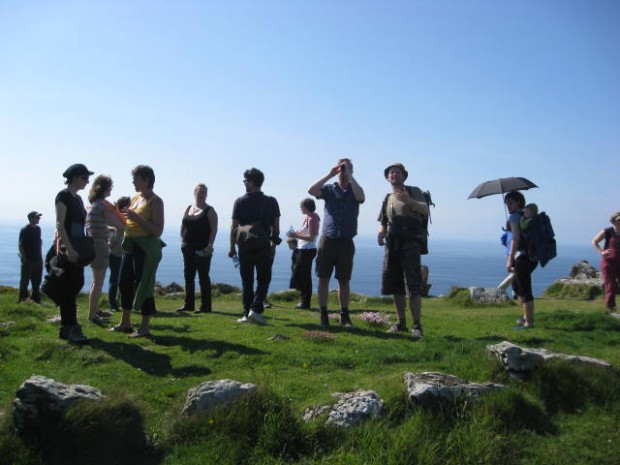 Words and images by James Kearns.
Read more information about Field Trip 1: Assembly Walk and Talk in the Programme listing.