Adam Chodzko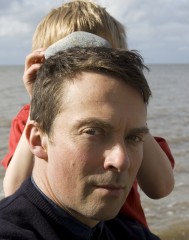 Lives and works in Whitstable, Kent
Born in London in 1965, Adam Chodzko initially studied History of Art at the University of Manchester (1985-88) before completing a Masters in Fine Art at Goldsmiths College, London (1992-94).
Using a wide variety of media – including video, performance, sculpture, fly-posters and drawing – Adam Chodzko's work explores human behaviour. Working directly with the people and places that surround him, often using forms of anthropology, Chodzko searches for collective knowledge by actively looking in the 'wrong' places. His art practice operates in the poetic spaces that he finds emerging between documentary and fantasy, conceptualism and surrealism, and often engages directly with the role of the viewer.
In 2008, Chodzko made a trilogy of 'science-fiction' works entitled Hole, Around and Pyramid in which he worked with communities to construct myths specific to each place. In the video works Echo and The Pickers (2009) Chodzko elaborated on these themes of document, myth, fiction and site by examining the collective behaviour and imagination of specific groups of people.
Since 1991 Chodzko has exhibited extensively in international solo and group exhibitions including Proxigean Tide at Tate, St Ives; Museo d'Arte Moderna, Bologna (MAMBo); Athens Biennale, Istanbul Biennale, Venice Biennale; and at PS1, New York.  Recent projects include commissions for Creative Time, New York, Frieze Art Fair and the Hayward Gallery, London.