Andrzej Przywara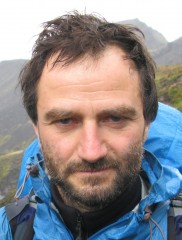 Lives and works in Warsaw
Andrzej Przywara is a curator, art critic and art historian. Born in 1968 in Zebrzydowice, Poland, he studied Art History at Warsaw University (1988-94).
Przywara started working at the historic Foksal Gallery (established 1966) in 1988 and over time became the main author of its programme, curating exhibitions by such artists as Luc Tuymans, Franz West, Mirosław Bałka, Gregor Schneider and Douglas Gordon. He left Foksal Gallery in 2001.
In 1997, with Joanna Mytkowska (Director of the Museum of Modern Art in Warsaw since 2007) and Adam Szymczyk (Director of Kunsthalle Basel since 2003), he co-founded Foksal Gallery Foundation. FGF's creative goal was to use the Foksal Gallery tradition to seek new models for the art institution in the context of the international artistic situation and of Poland's new social and economic realities.  The Foundation has undertaken a range of activities in the artistic and institutional fields – experimenting with the definition of concepts such as history, gallery, or public space. Przywara has been President of FGF since 2001.
In 2004 he started working with the Edward Krasinski estate and in 2007 opened to the public the environment left in the artist's Warsaw studio on the eleventh floor of a typical housing block from the 1960s and founded there the Instytut Awangardy. He also organised an international conference devoted to Krasinski and Henryk Stazewski (2007) and curated a major individual exhibition of Krasinski, ABC at Bunker Sztuki, Krakow (2008).