Paulina Olowska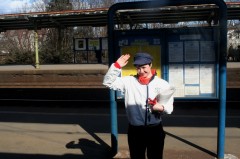 Lives and works in Raba Nizna, Poland
Born in Gdansk, Poland in 1976, Paulina Olowska studied at the School of the Art Institute of Chicago (1996) and at the Academy of Fine Arts in Gdansk, Poland (1997-2000).  She has undertaken scholarships and residencies in The Hague, Lisbon, Japan and at the Rijksakademie in Amsterdam. Her work has been exhibited internationally and in biennials including Venice (2003), Moscow and Istanbul (both 2005) and Berlin (2008).  Her most recent solo exhibition was at Tramway, Glasgow in February this year.
Employing a wide range of media, including painting, collage, installation, performance, fashion and music, Olowska explores histories of Modernist and utopian aspiration. She has focused on the lives and work of women such as Elsa Schiaparelli, Vanessa Bell, Virginia Woolf, and the once acclaimed Polish artist, designer and illustrator Zofia Stryjenska, whose paintings she recreated for the 5th Berlin Biennial in 2008.
In 2009 Olowska curated the exhibition Head-Wig (Portrait of an Exhibition) at Camden Arts Centre. She has undertaken frequent collaborations with artists including Bonnie Camplin, Frances Stark and especially the Scottish artist Lucy Mackenzie, with whom she created the bar, Novo Popularna, that they ran in Warsaw in 2003.
In 2006 Olowska organised a campaign in Warsaw to rehabilitate one of the city's most emblematic neons, the locally renowned 'Volleyball Girl' of 1961, a sign that once advertised a sports shop. To generate funds for this project she made a series of works for an exhibition at Foksal Gallery Foundation, an organisation with which she continues to collaborate.
Recently Olowksa moved her home and studio to a village near Krakow.  Her contribution to the Falmouth Convention will be sent from this remote location.