Solveig Øvstebø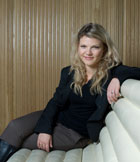 Lives and works in Bergen, Norway
Born in Chicago, Illinois in 1973, Solveig Øvstebø undertook post-graduate studies in art history at the University of Bergen and has been Director of Bergen Kunsthall since 2003, developing it into one of the main contemporary art institutions in Norway, with a focus on production, research and discourse.
She has curated and co-curated numerous exhibitions, including Looking is Political: Nairy Baghramian; Bojan Sarcevic; and Ane Hjort Guttu (2009); Sergej Jenssen; Leibhaftige Malerei Jxxxa: and Jutta Koether (2008); The Absence of Mark Manders; Center of Gravity: Runa Islam; and Banks Violette (2007); Awakenings: Rodney Graham; and Shifting Shifting: Aernout Mik (2006) and The Welfare Show: Elmgreen & Dragset (2005).
Øvstebø has also taught theory and art history at the art academies of Helsinki and Bergen and has written and lectured extensively on contemporary art. She is a board member of Arts Council Norway. Against the background of a proposal from Bergen City Council to establish an international biennial for contemporary art in Bergen, she was head organiser of the three-day international Bergen Biennial Conference, held in September 2009, which asked the question 'To Biennial or not to Biennial'.