Steven Claydon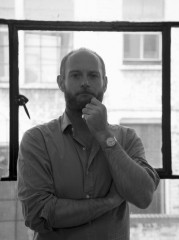 Lives and works in London
Steven Claydon was born in London in 1969.  His practice explores the inconsistent relationships that he identifies between writing, representations and objects, most often through perceptive, calculated juxtapositions in a variety of media: sculpture, painting, collage and film.
Through two-dimensional work, sculptures and occasional curatorial projects, Claydon explores the poetic capacity of objects and images – both found and imagined – to gain a certain measure of autonomy when staged against one another within assemblages. He addressed these concerns to a generous extent in the 'selected by' exhibition Strange Events Permit Themselves the Luxury of Occurring that he curated at Camden Arts Centre in 2007.
Claydon has participated in performance programmes, with The Ancient Set at London's Serpentine Gallery, and as part of a Turin-wide performance season The Fifth Dimension, curated by Andrea Bellini in November 2009. He is also renowned as a musician and was a founding member of the band ADD N to (X) until 2003, Jack Too Jack, until 2007, and currently Longmeg.
Steven Claydon has most recently participated in exhibitions including The Dark Monarch, Tate St Ives; Golden Zeiten, Haus der Kunst, Munich; and Dune, curated by Tom Morton at The Drawing Room, London and Plymouth Arts Centre. Previously he has been part of The Busan Biennial, South Korea (2008); Sympathy For The Devil, Art and Rock and Roll Since 1967 at the Museum Of Contemporary Art, Chicago (2007); and Rings of Saturn at Tate Modern, London (2007). He is the artist member of Tate St Ives Council.