Tacita Dean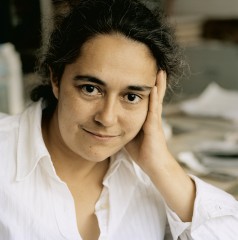 Lives and works in Berlin
Born in Canterbury, England in 1965, Tacita Dean studied fine art at Falmouth School of Art (1985-88) and later at the Slade School of Fine Art in London (1990-92). She moved to Berlin in 2000, initially to take up a DAAD scholarship.
Dean began working with film in 1985 and completed her first 16mm film the following year. She is now internationally renowned for her film installations, as well as for other closely related works including photogravures, drawings on alabaster, overpainted photographs, sound recordings on magnetic tape, and objets trouvés. Running through all her work is an obsession with time, with the nature of seeing, with things that lie on the verge of disappearance – ways of living, film, sound and photographic mediums on the brink of obsolescence
Dean has exhibited worldwide, in biennials and in numerous group exhibitions. Recent solo exhibitions include: The Friar's Doodle, Museo Nacional Centro de Arte Reina Sofia/ Abadia de Santo Domingo de Silos, Spain (2010); Kurt Schwitters Prize 2009, Sprengel Museum Hanover (2009); Still Life, Fondazione Nicola Trussardi, Milan (2009); and Tacita Dean, Australian Centre for Contemporary Art, Melbourne (2009). The sea has been a recurring motif in her work and has been the subject of a number of site-specific commissions, including Disappearance at Sea, shown in the lighthouse at Berwick-upon-Tweed as part of the Berwick Ramparts Project in 1996, and Amadeus (swell consopio) made for the Folkestone Triennial in 2008.