Tom van Gestel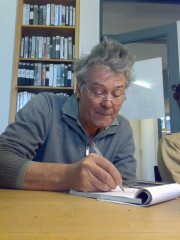 Lives and works in Amsterdam
Tom van Gestel studied Art History at the University of Utrecht, the Netherlands. From 1983 to 1995 he worked as the Head of the Visual Arts Commissions agency of the Ministry of Culture and then joined the Mondrian Foundation, where he held the post of Head of the Visual Arts Commissions Department until 1999. Since then he has been the artistic leader, senior curator and adjunct director of SKOR (Foundation for Art and Public Space).
SKOR is based in Amsterdam and operates on a national level to provide advice, guidance and financial support for the development of art projects in public spaces. It focuses on the interaction between art, sponsorship, location and the public, and in doing so establishes connections between new media, architecture, urban development and landscape architecture. Through its projects, SKOR is involved with significant national and international art exhibitions and initiatives.
In addition to his work with SKOR van Gestel organised the contribution by Flemish and Dutch artists for the Venice Biennale in 1993, and in 1995 and 1997 was the General Commissioner for the Dutch contribution.
Van Gestel has been a guest lecturer at institutions including Michaelis School of Art, Cape Town, the Royal College of Art, London and the State Academy in Oslo, Norway. He has been a guest speaker at international symposia in England, Spain, Belgium, Sweden, Norway, France and Germany.