Xavier Douroux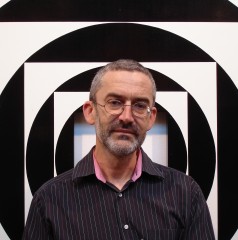 Lives and works in Dijon
Born in 1956 in Dôle in the Jura region of France, Xavier Douroux studied History of Art at the University of Burgundy before becoming an Associate Lecturer in the history of contemporary art, specialising in the history of exhibitions, at the same institution.
In 1977, together with Franck Gautherot, Douroux founded the association Le Coin du Miroir, which in 1982 was to become Le Consortium, a centre for contemporary art in Dijon and the first institution in the country outside Paris dedicated to contemporary art. Le Consortium is an organisation that incorporates many different activities. As well as an exhibition space, it includes a publishing house, Les Presses du Réel, a film production company based in Paris, Anna Sanders Films, and a design studio. Douroux also works on projects outside Dijon and has curated numerous exhibitions of contemporary art since 1978, including This is Yesterday at Centro Andaluz de Arte Contemporaneo in Seville in 1999; the French Pavilion at the 2001 Venice Biennale; and It Happened Tomorrow, the 2003 Lyon Biennale.
Xavier Douroux is also responsible for a programme of public commissions, mainly dealing with rural areas and their historical and cultural heritage. Since 1991 Le Consortium has been a mediator of the Fondation de France Nouveaux Commanditaires (New Patrons) scheme, which gives individuals, organisations and public corporations the opportunity to commission a contemporary work of art to meet a particular need or 'demand'.